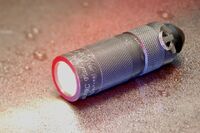 Arc Flashlight LLC produced innovative LED flashlights, several of which were the genesis of product types from other well-known manufacturers. Arc Flashlight LLC began operation May 2001, and went out of business September 22, 2004. A different company called MTD LLC later obtained the rights to manufacture one of Arc's designs.
Although no longer in business, Arc has historical significance since several innovations were the basis for flashlights now made by other companies. These include the first single-AAA-battery LED flashlight, the first temperature controlled LED flashlight, and the first microprocessor controlled Luxeon Star flashlight. Possibly the most significant innovation was producing the first flashlight using the high power Luxeon Star LED. For the first time this enabled a solid-state LED flashlight to produce output rivaling some incandescent bulb designs.
Community content is available under
CC-BY-SA
unless otherwise noted.