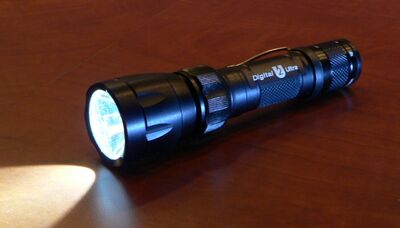 Surefire is a California-based company specializing in the production of high-quality flashlights. Commonly found within the law enforcement and military fields, Surefire flashlights are also used in the civilian market for personal, occupational, and self-defense purposes. They are often seen on the television show CSI.
Surefire models range from a typical 2-cell Xenon light to a large 20-cell HID model. They have also recently introduced a line of LED flashlights which offer several unique features such as computer-controlled power regulation and modular assembly.
Most of their flashlights are powered by Lithium 123 A batteries that allows for compact size and weight while maintaining high power output and long runtime. The main material used in the construction of Surefire flashlights is CNC machined aerospace grade aluminum, with an option for mil-spec anodizing. Some models use Nitrolon, an impact-resistant, non-conductive polymer.
Surefire's most popular product is the 6P Original. It is very compact, at only 5.1 inches (130 mm) long and weighing 5.3 oz (150 g). It uses two Lithium 123 A batteries to produce 65 lumens of light, which is roughly twice the output of a typical three D-cell flashlight.
Surefire began as a laser sight company; they remain innovators in the flashlight industry and are one of the biggest suppliers of flashlights to the U.S. armed forces.
Community content is available under
CC-BY-SA
unless otherwise noted.